1. Monday Activity: Story session on why Navratri is celebrated:
Teach them why the festival is celebrated, through the stories that celebrate "Dugra Maa's Victory over the evil ". The Amar Chitra Katha collection is a favorite among kids and parents who want to connect with Indian mythology. This comic series narrates the stories of Goddess Durga, and how she used the power bestowed upon her. Register for Proeves Festive Story camp here https://www.proeves.com/event/festive-story-camp-1132

2. Tuesday Activity: Teaching the 9 Colors of Navratri and the and Significance of them.
Besides worshipping Goddess Durga, playing dandiya, and making special dishes on Navratri, many people also follow special colours of Navratri; 9 days for 9 colours that have different significance.
The sequence of colors is determined by the day on which Navratri starts. This year Navratri starts on 17th October which is a Saturday. Saturday is always associated with the color Grey
Grey is the colour of the day. It represents strength, peace and calm. White clothes are worn for purity, peace and prayer. The colour red is worn to signify love, vigour and energy. Royal blue for divine energy and more power. Colour yellow is suggested for brightness, vigour, energy and warmth.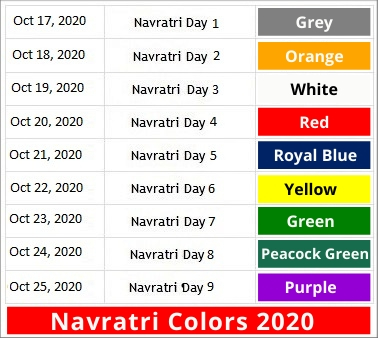 3. Wednesday Activity: DIY Dussehra Craft: Children love the character of Ravana with 10 heads. Watch this video to create a Ravana effigy at home.


4. Thursday activity : Making sweets
Embrace the complete joy of this festival by involving the kids while you make the food items for fasting. So make simple sweets like sabudana khichdi or Kheer with your children. Don't forget to involve them in everything small things which bring happiness. Click on the following link to find Kheer recipe here: Kheer Recipe

5. Friday Activity: Rangoli Design
Rangoli is another best Navratri decoration ideas that you can teach your kids during Navratri. You can outline the rangoli and train your child to fill the inside with colors or flowers.
Don't forget to register for our Festive Joy Camp for kids aged 3-8 years where they will have a fun time with loads of interesting activities ! Register here www.proeves.com/register